Hi everyone! Thank you for having us here for the PC Gamer Spotlight. We're excited to share our love of bouncy physics, dungeon crawling, and face-palming puns with all of you!
Wonderbelly Games is a Seattle-based, three-person studio founded by Andrea Roberts, Bob Roberts, and Kurt Loidl. We're a tiny team of close friends who spent a decade working on AAA games: Bob led the design team on Shadow of Mordor and Shadow of War, while Kurt and Andrea worked on the Fable series and more at Microsoft. Now we follow our hearts and our bellies to make the kind of games we love: bright, cheeky games with tons of strategic depth.
Roundguard
is our first release as Wonderbelly Games. Inspired by the physics-based fun of Peggle, the strategy and surprise of classic roguelikes, and the quirky humor of Adventure Time and the Adventure Zone, Roundguard is the bounciest dungeon-crawler (dungeon-baller?) you've ever played. The game was selected for the PAX 10, Indie MegaBOOTH, Day of the Devs, and more!
We shipped March 13th, 2020 simultaneously on Steam, Nintendo Switch, Xbox One, PlayStation 4, and Apple Arcade (aka iPhone, iPad, AppleTV, and Mac) in 16 languages around the world… and then promptly collapsed from exhaustion. Fun fact: Andrea and Bob are married and have a four-year-old daughter. Turns out shipping a game in a burgeoning pandemic while preschool is shut down is tough! Who knew?
We've recovered, though, and we've been hard at work on our first major content update for Roundguard. It just released last Friday! In our Treasure Hunter update, we've added Daily Puzzles and Weekly Run modes, tons of new rewards to unlock, and most importantly… mimics.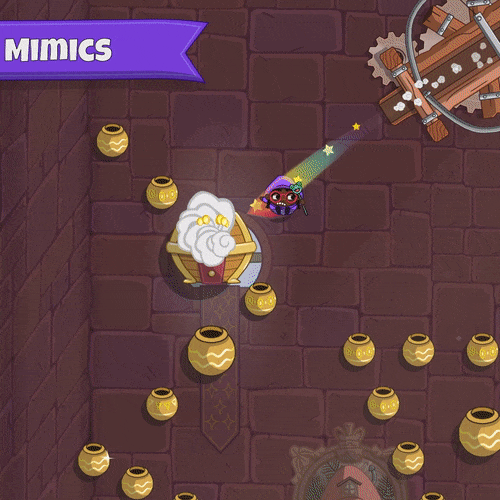 Did I mention we're huge D&D nerds?
We're obsessed with game design, so this week, we'll be talking about a few of our favorite topics:
designing procedural systems
,
building levels in Roundguard
, and brainstorming a new character class. We'll also be giving away an enchanted set of Roundguard swag, sure to improve your bounce stats next time you drop into a dungeon.
Let us know if you have any questions about Roundguard, our backgrounds, or anything else! We're looking forward to chatting with everyone.
<3
Bob & Andrea
Oh, and you can hang out with us more over here too: