Asus has launched a new PC in it's "G2X" Line-up. Now it's the G22CH. This entire system is seated in a 10L enclosure. While I was going to go for a more traditional build, I think this might be at the top of the list now, I've always been a fan of how ASUS handles their SFF machines with the GR8, G20CB, G21 and now the G22. I personally LOVE the look of this machine, it's small enough to be subtle and put in any environment or office setting since you can disable the AURA SYNC (
AURA CREATOR
) entirely. I also like how it keeps its "Desktop" look and feel while being such a small, compact pre-built machine.
I haven't found their "top" of the line model yet, which is supposed to have an i9-13900KF and RTX 4070 card in it..the only models I've found are the i5 and i7 versions on Amazon and Newegg.
Option 1: i7-13700F, NVIDIA GeForce RTX 3060 Ti, 1TB SSD Gen 4, 16GB DDR5 RAM, Windows 11​
Option 2: Intel Core i5-13400F, NVIDIA GeForce RTX 3060, 512 GB SSD Gen 4, 16GB DDR5 RAM, Windows 11​
Compact with an impact​


Take your Windows 11 Pro gaming to the next level with the compact power on display from the ROG G22CH. Featuring up to an Intel® Core™ i9-13900KF processor and paired with an NVIDIA® GeForce RTX™ 40 Series graphics card, the G22CH can handle the latest and greatest games. Stream, communicate, and record your gameplay with ease thanks to up to 32GB of 4800MHz DDR5 RAM. With the ROG G22CH, great power doesn't need to come with a large footprint.
PERFORMANCEPERFORMANCE

Windows 11 Pro OS

*UP TO 13th GEN INTEL® CORE™ i9-13900KF PROCESSOR

*UP TO GEFORCE RTX™ 40 Series GRAPHICS CARD

*UP TO DDR5 4800 MHz MEMORY
At ROG, we're never afraid to push the boundaries of PC design or performance, and the G22 is the latest example of our pursuit of excellence. The G22 is nearly 40% smaller by volume than our previous small form factor G21 Huracan, despite packing much more powerful hardware. Innovation never rests, and neither does ROG.

Low volume. High efficiency.​


Cooling is key in any small form factor case, so the ROG G22CH has two optimized options. You can either opt for a more traditional air-cooled solution, or choose a custom liquid cooler for the CPU. Both variants keep the processor running smoothly, without excessive fan noise, despite the 10L chassis size.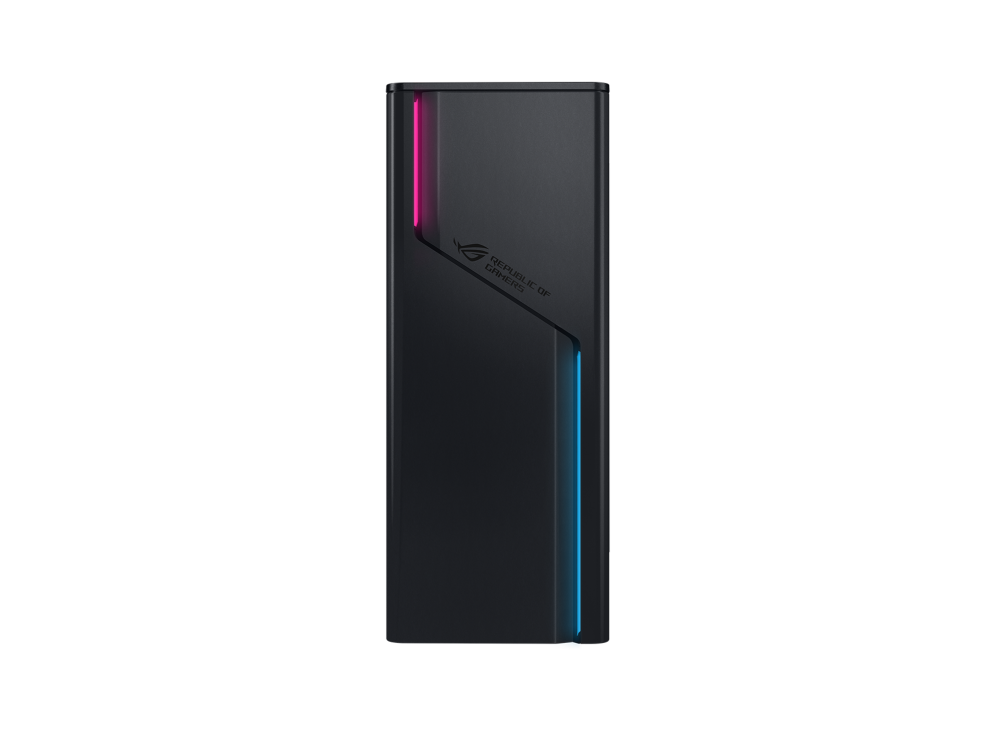 Modern design​


As a compact machine, the ROG G22CH can happily sit on even the smallest desks. The chassis was designed with personalization in mind, with multiple side panel options and full Aura Sync RGB compatibility.
Interchangeable side panels. to show off the Liquid or Air cooling.
Rear I/O
To find out more about this system check it out at the ASUS ROG official site:
https://rog.asus.com/desktops/small-form-factor/rog-g22ch-series/
All images are directly from Asus and the ROG site.