The layout of a Roundguard level (i.e. the pattern of pegs in a single room) is a marriage of a handcrafted process with procedural population. Peg locations are hand-placed to allow fun gameplay possibilities -- and silly visual gags -- but which type of peg actually ends up in each spot is subject to procedural randomness. Even if you see the same peg layout, the collection of which enemies, potions, and treasure are spawned and where they are placed is different every time.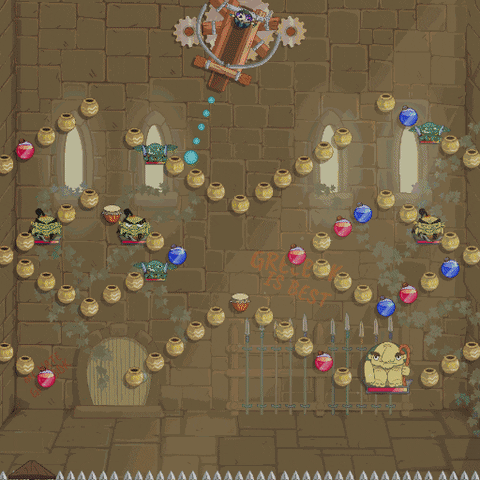 When we were running our pre-launch beta, I made some resources for our community so that they could share their own level ideas. I made a board template with a spacing grid, and some correctly sized small / medium / large peg images to copy and paste around. They're not very pretty, but they get the job done! Anyone with a simple image editor, like Paint, can take the assets and make their own board layout.
A lot of the rooms you play in Roundguard now were based on ideas from our community. Here are a couple of layouts by 'loginerror' from our
Roundguard Discord
, followed by the in-game versions I built and put in the game:
Here's
a link to the resources I gave our beta community
if you want to try your hand at some levels.
Be sure to check out the
Level Design Guidelines doc
first to understand the constraints if you want your level to be as close to shippable as possible. But if you can't keep the level design rules all straight, that's totally okay! We can mold any ideas you share and get them ship shape one way or another.
I'd love to see what levels you come up with -- and I'd love to get them into the game! We're planning to feed more levels into the randomized pool in future updates. So if you have a passing familiarity with any art program and an idea you want to share, post your level layout here and we'll turn them into real in-game levels to share back with you. Your level might make it into the next Roundguard patch!
And if you don't wanna actually try to build your own level, we can still just talk about the process of designing and building this type of stuff together here. Let's chat!
Last edited by a moderator: